"The best and most beautiful things in the world cannot be seen or even touched.
They must be felt with the heart."
— Helen Keller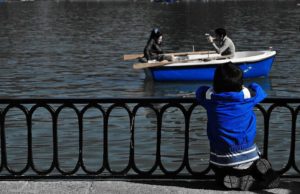 Greetings Yogis,
            Here we are a few months into the Corona virus pandemic, with some time spent in lockdown and getting used to a new way of life. Whether we like it or not, we are going through changes that affect us each individually as well as societally. What this means for our future, we cannot yet say. However,  if distancing truly makes our hearts grow fonder, let's hope for a kinder, gentler and more just world when we finally come out of this. In the meantime, online yoga is here for a little while longer. Both Juli and Pinelopi continue their regular schedule online through June. With Pinelopi dropping to one class a week through July for summer holidays. Near the end of July we hope to know more about the regulations and peak statuses of Berlin to make a decision whether we return to the studio in August.
Hatha Yoga Classes Live Online
Pinelopi's regular Hatha Yoga classes continue online through June, and will reduce to once a week in July for summer holidays. Here is how to join.
Sunday Yoga Live Online
Juli's regular Sunday Yoga classes from 4-5:30pm continue live online through June and July. Here's how to join.