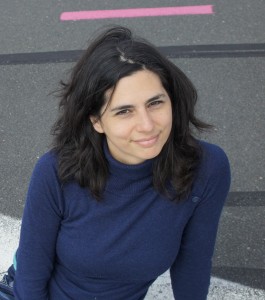 My classes promote "Ahimsa: non violence". In a world where we are constantly pushed to go over our limits and to produce,  this Hatha Yoga Berlin space has been created for you to breathe, observe, and practice kindness towards yourself. 
BIOGRAPHY:
Originally from Greece, Pinelopi has grown up all over the world. Beginning her yoga practice in 1999, she went on to complete a 600 hour Hatha Yoga Teacher Training course over a period of two years in Valencia, Spain. This training is recognized by the Berufsverband de Yogalehrendedn in Deutschland (BDY), World Movement of Yoga and Ayurveda and the European Yoga Federation. Since 2008, she has worked as a full-time yoga teacher in Spain and continued to do so after her move to Berlin in 2010. She is currently finishing Leslie Kaminoff's Yoga Anatomy Principles course and is training to become an Alexander Technique teacher.
Pinelopi teaches students how to listen to their own body, how to ground themselves, how to accept their limits, trust their own process and how to unblock the mind that gets habitually stuck in painful patterns.
She is in awe every day of Yoga's transformative power.
Life experiences beyond yoga in Berlin: Pinelopi speaks Greek, English, Spanish, French, Italian and German. She was a long-term member of the ESCANDA autonomous collective in Spain. She was involved in popular education, theatre classes, self-defense workshops for young women in high schools, workshops on the prevention of gender violence, storytelling in English for Spanish children, co-teaching on how to build and electricity-producing windmill for the MST (Landless Movement of Brazil) and environmental education workshops. She also worked as an environmental researcher for the Greek National Center of Social Research and has done a lot of voluntary work at the Aegean Wildlife Hospital.

CONTACT:   pinelopi (at) englishyogaberlin (dot) com
SCHEDULE:

| | |
| --- | --- |
| Tuesday | Thursday |
|  18:00 – 19:30 |  18:00 – 19:30 |
| |  20:00 -21.30 |
TYPE OF YOGA: Hatha Yoga
Hatha Yoga Berlin is a soft, balancing yoga.  It mainly consists of getting into a position and holding it while breathing deeply.  The students choose how hard they want to make it for themselves by choosing how many breaths they are able to do on that particular day. This class is taught in English and includes up to 70 minutes of yoga poses and 20 minutes of relaxation and visualization, in which aspects of Yoga Nidra (conscious deep sleep) get introduced. You can read more here.
TYPE OF YOGA: Prenatal Yoga
This is a soft balancing class that promotes mental and physical well-being. All yoga poses (asanas) are adapted for the pregnant body. Pregnancy is not a moment to advance in the practice of yoga , but rather a moment to use the practice for feeling in tune with the body, listening to its queues, and a way to learn to respect the body's limits. In this English pre-natal yoga class, the students will learn how to stretch through yogic asanas, breathe deeply during movement, as well as the use of good visualization and relaxation techniques. The class consists of 55 minutes of asanas and 20 minutes of relaxation. This class is momentarily not available.
Click here to read Student Testimonials of Pinelopi's classes
Click here to get a Hatha Yoga Gift certificate for somebody special.