My classes promote "Ahimsa: non violence". In a world where we are constantly pushed to go over our limits and to produce, this Hatha Yoga Berlin space has been created for you to breathe, observe, and practice kindness towards yourself.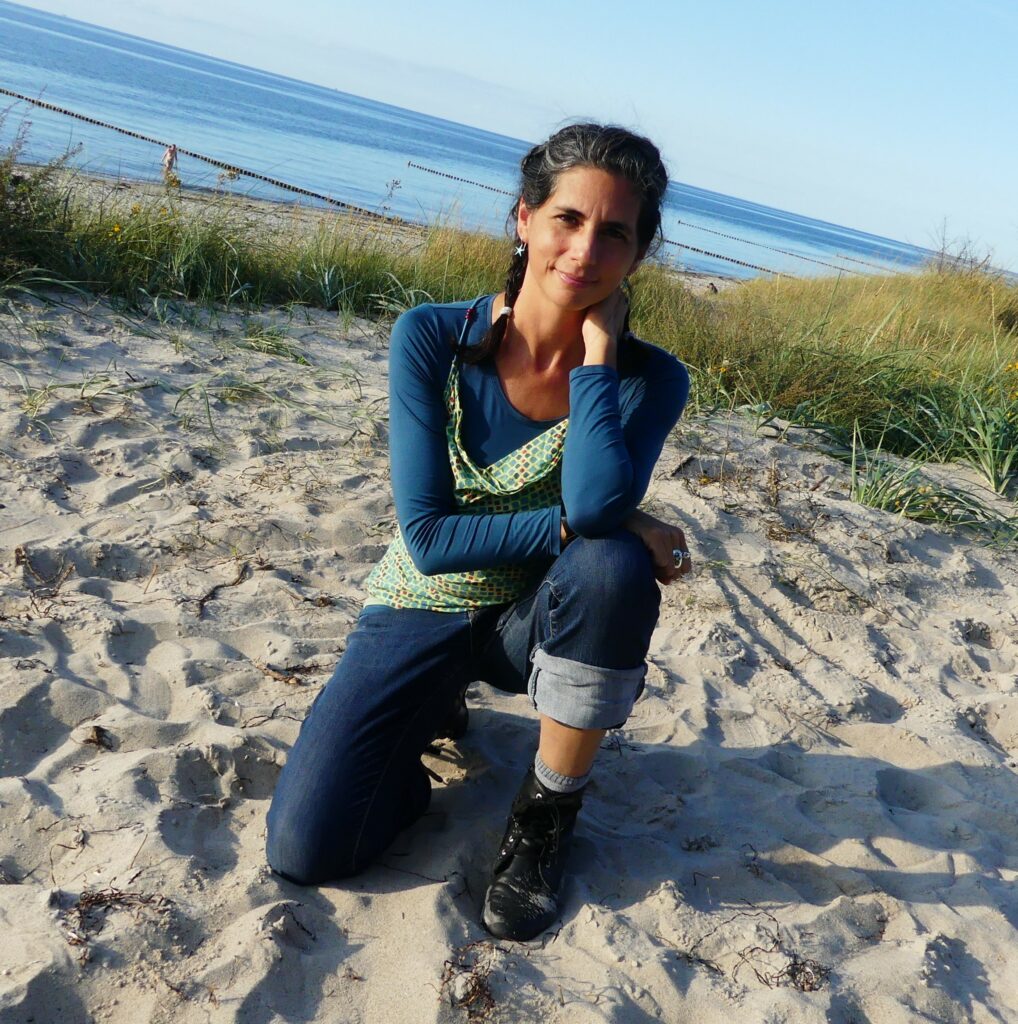 CONTACT: pinelopi (at) englishyogaberlin (dot) com
BIOGRAPHY:
Originally from Greece, Pinelopi has grown up all over the world. Beginning her yoga practice in 1999, she went on to complete a 600 hour Hatha Yoga Teacher Training course over a period of two years in Valencia, Spain. This training is recognized by the Berufsverband de Yogalehrendedn in Deutschland (BDY), World Movement of Yoga and Ayurveda and the European Yoga Federation. Since 2008, she has worked as a full-time yoga teacher in Spain and continued to do so after her move to Berlin in 2010.
Subsequently, she deepened her knowledge through studying Yoga Anatomy with Leslie Kaminoff . Meanwhile she also studied with David Moore and attended several of his "Injury-free yoga" workshops of how to apply the Alexander Technique postural alignment to yoga poses.
In January 2023 she graduated from a 1600hour three year course with Jorg Asshof and became an Alexander Technique teacher. In her third year of training she had the opportunity to give over 190 private classes.
Her meditation philosophy is deeply inspired by Tara Brach and especially the RAIN meditation technique.
Pinelopi teaches students above all how to listen to their own body, how to ground themselves, how to accept their limits, trust their own process and how to unblock the mind that gets habitually stuck in painful patterns.
She is in awe every day of Yoga's transformative power.
Life experiences beyond yoga in Berlin:
Pinelopi speaks Greek, English, Spanish, French, Italian and German. In 2001, she graduated from the University of Sussex with a degree in Geography from the Biological School of Sciences. Later, she became a long-term member of the ESCANDA autonomous collective in Spain. During this time she learned popular education; gave theater classes; self-defense workshops for young women in high schools; workshops on the prevention of gender violence; and storytelling in English for Spanish children. In addition, she was involved in the co-teaching on how to build and electricity-producing windmill for the MST (Landless Movement of Brazil) and environmental education workshops.  Earlier, she worked as an environmental researcher for the Greek National Center of Social Research and has done a lot of voluntary work at the Aegean Wildlife Hospital.
SCHEDULE:
EMPLOYMENT STATUS:
Pinelopi is employed by Smart-Eg. Her membership number is 0858, and you will receive all invoices from Smart- Eg Cooperative.
TYPE OF CLASSES PINELOPI TEACHES:
Hatha Yoga
Hatha Yoga Berlin is a soft, balancing yoga. The students choose how hard they want to make it for themselves by choosing how many breaths they are able to do on that particular day. A typical class begins with a 5 minute grounding exercise, pranayama and warm up. After that, the class continues with Hatha Yoga postures. Finally, it ends with a 20 minute relaxation and visualization, in which aspects of Yoga Nidra (conscious deep sleep) get introduced. You can read more here.
Yoga and The Alexander Technique:
Next course coming up March 9th – March 30th, 2023
In this Yoga and the Alexander Technique course we will look at ways we enter yoga poses through the lens of the Alexander Technique, with the intention of uncovering deep habits. We carry our habits everywhere. If we tend to stress our neck before we lift our arm, we will do that regardless whether we are reaching for a box or bringing our arms up into the Warrior pose. The Alexander Technique looks into these deep habits and gives you small impulses that make a big difference in how to access a better coordination with your body as a whole. Click here for more info.
Alexander Technique Classes:
These are one on one classes where we look at deeply held habits in the way we use ourselves. A typical lesson can include table work, chair work, walking and exploring simple movements such as bending over, lifting the arms and bringing oneself to the tips of the toes. Once you learn new ways of doing these simple movements, you can then start to apply them to more complex movements of life. The technique can be adapted to individual specific wishes such as how to hold a music instrument in a more efficient and healthy way or how to work with a computer or looking at specific movements that affect your life personally. To find out more click here.
Private Yoga Lessons:
… for the really busy, for those with special needs, for the shy, or simply for those who want to get a personalized program and the undivided attention of the teacher. Private Yoga lessons are a sure way to address the little insecurities and questions you have about your practice, and therefore get advice on how to best use yoga and meditation for your specific life challenges. Click here if you want to learn more.
Business Yoga:
Hatha Yoga classes for businesses in Berlin can happen at your workplace, or in the conference room of the hotel where your workforce is staying. Business Yoga is one of the most efficient and effective ways of reducing stress, calming anxiety and soothing the body. Moreover, practicing yoga as a group helps to build empathy, solidarity and communication among participants. Finally, a weekly in-company yoga class is something that employees can look forward to every week. Click here to find out more.
Hatha Yoga Retreats:
Pinelopi offers Hatha Yoga weekend retreats in Brandenburg biannually. In these retreats she teaches Hatha Yoga, Pranayama (breathwork), Tratak (candle gazing), meditation instruction, mindfulness walks, gratitude circles, and Japa Meditation (mantra chanting). Click here to find out more.
Meditation Course:
In this six week course we learn the basics of meditation: how to choose an anchor; what is detachment without repression; what to do with strong emotions that appear in meditation; how to deal with sticky thoughts; how do our deeply held beliefs influence the types of thoughts we have; what is the here and now. Find out more. There are more meditation courses available, such as "Exploring the Negativity Bias" and "Mindful Care-giving". Check the schedule to see if one is coming up.
Chakra course:
In this nine week course we learn the symbolic language of the chakras and how human behaviors affect its vibrations. We use the chakras as a map to help us self explore certain concepts like our roots, creativity, self esteem, forgiveness, surrender, love, detachment and connection to our spirits. The classes are firstly given in the format of an introduction, followed by self exploration through yoga poses and visualizations. Check out our courses page to sign up to the newsletter to find out when the next one is on offer.
Click here to read Student Testimonials of Pinelopi's classes
Click here to get a Hatha Yoga Gift certificate for somebody special.