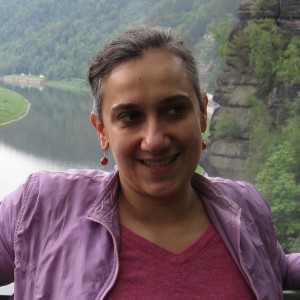 Yoga is an individual practice to support the self in feeling better by learning to become aware of one's own thoughts, feelings and movements. As we come together to practice in the same room with others who are also focusing on their own self, respect of others' differences and non-judgment is essential and helps us to see how we are all interconnected.
.
Juli's aim is to make a class comfortable for those who feel marginalized in other classes but still want to discover the yoga benefits. You are invited to join Juli in creating an atmosphere of alliedness by recognizing our privileges and creating space for others (queers, transfolks, sex-workers, bipoc, differently abled, abundant bodied, low/no-income).
---
Juli offers queer* community yoga classes at English Yoga Berlin.
These classes make priority for queer and trans folk.
Allies who take an active part in the queer community are welcome.

Every Sunday, except holidays.
Svastha Yogatherapy Vinyasa Flow
4-5:30pm

Join the Telegram Group for last minute updates!
The group is also accessible in a web browser.
*The class is currently offered as a Hybrid (live-streamed online + at the studio) class.
How to join:
If it's your first time attending the class, you need to fill in this form.
Please let me know (either in the Telegram Group or by Email) that you'd like to show up in-person, and I'll let you know if there's a spot available.
Do a quick-test on the same day before showing up to the studio. If you have a cold or flu please stay at home. If you feel well enough, you are of course welcome to join us online.
Pay for the class (PayPal or bank transfer in advance) or cash at the studio.
The prices for the classes are:

12€ — drop-in
50€ — 5er card (5 yoga classes within 2 months of the first class)
90€ *NEW* — 10er card (10 yoga classes within 4 months of the first class)
Sliding-scale — For Berlin locals who would like to participate in the queers and friends yoga community, but the regular prices are not in reach.
Styles of Yoga
Vinyasa Yoga connects the breath with flowing, dynamic movement through sequences of traditional and contemporary Hatha yoga postures. A Vinyasa Flow class can be very different from another. The style of this specific class is slower than most, it focuses on techniques of Svastha Yogatherapy – strengthening the body to help heal from injuries, manage pain and chronic illness, and resting the mind to recover from stress and anxiety. Every class ends with a guided relaxation.
Restorative Yoga is a restful, gentle yoga practice that nourishes the parasympathetic nervous system, our body's responses when rest or regeneration is required to counter stress, anxiety, insomnia, illness or injury. Movement and yoga poses from Svastha yoga therapy are incorporated into the class, as well as the style of restorative yoga created by Judith Lasater in which some poses are held for 5-20 minutes, supported by props, rolled-up blankets, blocks and chairs.
At this time, there is no regular weekly course for restorative yoga. If you are interested in booking a private session, please contact Juli by email to arrange a date and time. Private classes are 70 euros for in-person lessons and 40 euros live over Zoom. When booking a time with Juli, please be sure that this appointment works for you, as you will be charged a fee of half the agreed-upon rate if you cancel within 24 hours of the class time.
Biography
Juli was introduced to yoga as a teenager while warming up for practice at the Ukrainian Academy of Dance in Toronto and quickly became hooked on this gentle healing practice. In 1997, Juli began to more fully explore what yoga could offer and started practicing Iyengar and Ashtanga. Over the decade that followed they tried a variety of different styles (Kundalini, Anusara, Acro-yoga, Chi-Yoga, Bikram and Restorative) in Toronto and Vancouver. As someone who holds a lot of tension in the body, yoga was a way to help release it and feel better. In 2008 Juli attended the Yandara Yoga Institute to become a 200h Yoga Alliance certified yoga teacher. As a filmmaker and artist, Juli finds balance by practicing and teaching yoga and participating in community projects.
Juli has been teaching yoga in English and German in Berlin since 2009. Starting off with an independent class at the HeileHaus eV in English in 2009, and then a class in German at the women's Kick-boxing studio LowKick eV in 2012. And shortly after that another class in English at the YogaRaum. In 2013, Juli taught yoga at a week-long retreat for activists, and then joined English Yoga Berlin. Over the past few years, Juli has also led independent workshops in Berlin to migrant women, as well as private classes. In 2019 Juli finished an additional 300h in the Svastha Yogatherapy advanced teacher training program in Berlin, a practice that supports recovery from injury, helps manage chronic pain and mental health, and offers tools to develop healthy and efficient movement throughout activities of daily living. These practices are integrated into Juli's vinyasa flow classes at English Yoga Berlin and in other classes and workshops in Berlin.
Juli bietet auch Yogakursen auf Deutsch.
| | |
| --- | --- |
| Contact Juli for more info about their classes. | |
If you'd like to purchase a Gift Certificate / Gutschein for one of Juli's classes, choose from the options below. The price includes delivery. Gift Certificates are valid for one year after purchase.