The virtual world is here. It has been here for some decades now. It has waltzed into our lives with dizzying speed….with all its charms, promises and dangers. Some promises of connection and closeness were kept. Others were delivered in unexpected ways. Many ended up creating the icy feeling of loneliness in an over-connected world. One thing is clear. The speed in which this digital world has entered our lives has not given us enough biological time to adapt.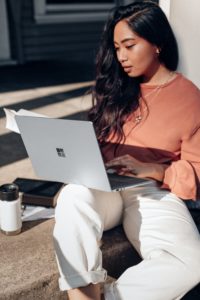 We spend incredible amounts of time working in front of computers, absorbed in our social media feeds, or receiving various forms of entertainment. Few times do we stop and become aware of our bodies. We forget about the living body. We increasingly get lost in a cloud of thoughts. Until eventually, the body starts to complain, desperately trying to catch our attention, asking for us to return to the biological vessel that makes our existence possible.
Since computers are here to stay and our use of them is not bound to diminish, is there a way that we could coexist in peace all together: computers, bodies, and presence? We must find one for the sake of our bodies, our mental health, and the quality of presence that we wish to live with.
In the next series of blogs I will suggest a combination of different aspects to become more aware of our bodies and our ability to stay mindful while working on computers. This will include looking at positions of mechanical advantage; bringing variation to the working positions we chose; ways to remember body awareness; eye care and mindfulness practices while doing computer work.
But for today, let's start with the preparatory work.
Good posture in front of the computer
We often are told to "sit up straight", but do we actually know what that means? Many people use excessive amounts of energy to keep their version of "straight" in front of their computers. It is not possible to use such amounts of physical energy for a long time without cramping or becoming very uncomfortable. As a result, they then have to swing to the other extreme of slouching or collapsing while on their computer work. Many continue to swing between excessive tension and collapsing for the rest of their computer time. Both yoga and the Alexander technique are ways that people can use to help them find a middle place where sitting up straight becomes possible without using excessive muscle tension.
What does sitting up straight or upright actually mean?
I believe that the direction of "sitting up straight" or "upright" is confusing to begin with.  Does being straight mean to not have curves in your spine? To flatten out the curves? No. This would be setting us up to failure and to more problems. Rather, I suggest that we look at sitting upright as a balanced relationship between the head, neck and back.
Alternatively, some people may find it easier to think of "upright" as balancing out the three curves in their back. This would mean that not one curve is extreme and out of proportion from the other two. The challenge, though, is to balance out the curves without using excessive muscle tension.
A good way of becoming familiar with the relationship between your head, neck and back is to lay down in the semi supine pose with some books underneath your head for ten to fifteen minutes daily. In  Part II of this blog I will explain the semi-supine pose, a mindful exercise that you can practice to help increase your familiarity with this pose, and the relationship between head, neck and back.
Pinelopi specializes in Hatha Yoga. Her yoga Kreuzberg Berlin classes are open for and welcoming to beginners. She offers Berlin business yoga,  private yoga classes for people struggling with chronic pain, yoga courses and workshops.  She is currently deepening her knowledge through Leslie  Kaminoff's Yoga Anatomy course and training to become an Alexander Technique teacher.  Due to the corona virus, we are currently giving all yoga classes live online.