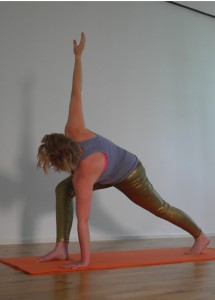 This Sunday, Juli will be away and Kanchi brings Body Positive Yoga to our Vinyasa Flow Yoga community class.
When? :

Sunday, October 25, 2015 (4-5:30pm)


What? :

Body Positive Yoga


How Much? :

12€ drop-in / reduced rate (pay-what-you-can)


Where? :

Our Kreuzberg Yoga Studio
Kanchi uses her 20 years of experience practicing yoga to provide Vinyasa Flow or Hatha / Hatha-Flow classes that are designed to provide a safe environment for people of all shapes, sizes, genders and ability levels to experience a yoga asana practice and build a deeper connection with their bodies. All of Kanchi's classes are queer & trans*friendly.
Why Community Classes?
If you've been following our blogs or attending our classes, you know that we've been offering sliding-scale community classes at English Yoga Berlin since June 2013. The rising cost of yoga classes in Berlin can deter lower- / no-income people from seeking out a practice that could potentially help them deal with stress and burn-out, or symptoms of chronic illnesses that with less income are harder to treat. We'd like to be able to provide a place where people can learn about the benefits of yoga without worrying about the cost.
Why Body Positive Yoga?
In Juli's blog "I'm No Barbie Girl"  she outlines the problems of the modern western yoga industry and how it paints a picture of the picture-perfect yogi. This can also be a deterrent to practicing yoga for those who don't fit that type and who feel they must be flexible to practice yoga. If you've ever taken one of our Tantra Yoga classes, you'll know that yoga is not just about the postures, there's a whole other world! Literally anyone can practice yoga.
Why Yoga for Queer and Trans* folk?
Also part of body positive yoga is making the space safe for queer and trans* people. When the room is filled with stereotypical "yoga-bodies" and unawareness of heterosexual and cis-sexual privilege, it can make some queer and trans* people feel uncomfortable and unable to focus on their own practice. And often the language used in mainstream yoga classes can be very hetero- and cis-sexist. As queer teachers (Juli and Kanchi), we can take the first step in making the space more queer and trans* friendly.
We're looking forward to Kanchi's Body Positive Yoga on Sunday! It's a great fit for us at English Yoga Berlin and especially for Juli's Vinyasa Class.