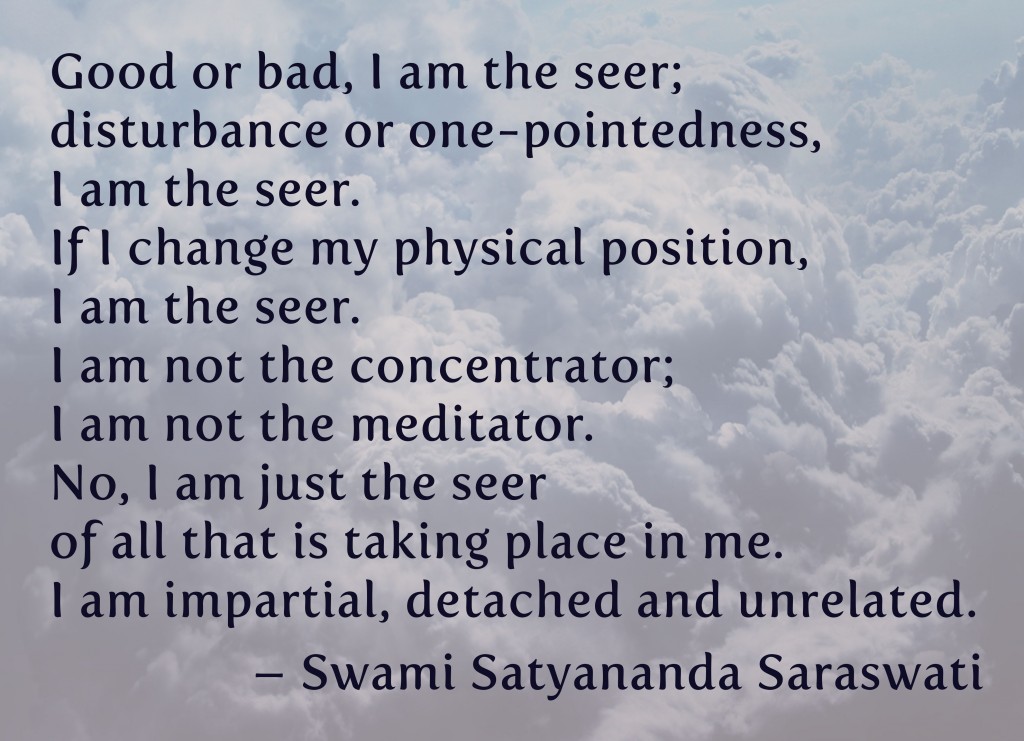 Some people think that yoga is about self-improvement. Although this is not an entirely crazy concept, it is essentially misguided, and also a rather dangerous attitude. The problem with self-improvement is that it follows the assumption that somehow, we are not good enough, or that constantly struggling to make ourselves better is a precondition to living a fulfilling life. This is like putting the cart before the horse.
Self-improvement, like positive thinking, anger management and so many other devices of the prosperous self-help industry, are superficial and ineffective ways to deal with our neuroses. They may work for some people, some of the time, but they often suppress other problems that will eventually manifest themselves in one way or another – for example, as an explosion of the repressed feeling, or as psychosomatic disorders. In the best of cases, they treat the symptom, while doing little to eradicate the disease.
It's true that yoga leads to self-improvement, but this is more of a side effect. And, like so many things in life, it is blocked if we obsess about it (hasn't it happened to you, that only when you give up desperately wishing for something, does it finally happen?).  In any case, real self-improvement doesn't come about without self-acceptance. And self-acceptance is impossible without self-knowledge. Self-Knowledge… now that sounds closer to the point of yoga –IF there was a point to yoga.
But let's stay with self-acceptance.
"Love your neighbor as you love yourself", goes the old wisdom. But how about loving ourselves like we love our neighbor? I dare say that we're all excellent friends. We take friendship as seriously as any other job: We comfort our friends when they need a shoulder to cry on; we encourage them when they need a little confidence boost; we celebrate with them when they achieve some success. We love them and cherish them unconditionally. How many of us can say that about our relationship with ourselves?
And the irony is that self-acceptance would make us even better friends. Our attitude towards ourselves influences our attitudes towards others. Self-acceptance translates into a more tolerant attitude to everybody around us; it frees us from comparison and competition and allows us to have a more harmonious relationship to our environment. Make this experiment: Next time you find yourself criticizing somebody else, stop for a second and ask "What is it about myself that I'm unhappy with?" If you're honest with yourself, you may discover that there is some self-dissatisfaction triggering the criticism.
Self-acceptance is not the same as self-esteem. It goes rather deeper. While self-esteem represents one's judgment of one's worth; self-acceptance doesn't consider worth as being the question. Self esteem is an appraisal of our value, while self-acceptance is an unconditional admission of adequacy. Self-esteem considers our virtues and achievements, while self-acceptance embraces all facets of ourselves. Self-esteem still allows for narcissism, arrogance and immature perceptions of self, while self-acceptance dismantles all these traps of the ego.
But, I don't want to accept my flaws, I want to change them!
Despite all the yoga asanas we do, the yoga classes we attend, the meditation we undertake, despite all the therapy and all the self-improvement, true self-acceptance still eludes us. In my opinion, the reason for this is precisely our obsession with making ourselves better. The focus is all on how yoga benefits you, or how therapy makes you better. Why can we not relax for a moment and stop trying to improve everything about us? Why can we not accept that we will never be perfect?  –OK fine, even if we can't stop pushing ourselves to be better and better, we need to realize that the best way to move forward this is to accept where we are right now.
Please understand that this acceptance doesn't mean agreement. One doesn't have to resign to a character "flaw" in order to accept it. One merely acknowledges that this is where one finds oneself, today. This is the starting point. Self-acceptance is letting go of struggle, so we can start the process of moving-on.
Although, as previously expressed, the avid pursuit of self-improvement is not an effective solution to our problems, the desire for improvement, the motivation to be better parents, friends or humans is healthy and inspiring. So, will accepting myself make me complacent and stifle my growth? On the contrary: True change is unlikely without self-acceptance.
To accept ourselves we must be aware of our different aspects, and this awareness is essential for change. Simply by experiencing something without being swayed by it we're able to let it go. It works with everything. You can try it: Next time you're doing a yoga pose become aware of any tension you have in the pose. Just experience the area where you feel tension, without wanting the tension to go away, without resisting it. Be there – feeling it, accepting it. And notice what happens: the tension gradually, but surely dissolves, or becomes more bearable. Go ahead, try it!
Sounds strange, but it actually makes a lot of sense. By becoming frustrated with something, by analyzing it and judging it as good or bad, we're actually clinging to it. We're not letting go. By witnessing something and accepting it, we can achieve the level of detachment that allows us to drop it and move forward. Just think of the addict. Any expert will tell you that an important step in conquering addiction is to accept it. The alternative would be to deny the reality of our situation, and in this denial, neurosis lurks.
A telling fact is that acceptance is the last stage of the grief process as defined by Psychiatrist Elisabeth Kübler-Ross. Without acceptance we simply cannot move on.
How can yoga help?
My teacher, Swami Janakananda asks: "Can you experience and respect the current conditions of your life?", then he goes on to explain that this is the first step towards transformation. His teacher, Swami Satyananda said: "An important step in yoga is to accept your nature as much as you're able."  Satyananda spoke a lot about self-acceptance, and the reason is that acceptance of self is crucial to yoga and tantra. Tantra has even been called the way of acceptance. If you look at many of the tantric methods, they teach us to allow and accept any emotions and thoughts as a first step to letting them go.
So yoga can certainly help with self-acceptance. The mere act of practicing the asanas, of bending your body as far as it wants to go, requires a degree of acceptance that this is as flexible as we are right now. It helps us discover that this flexibility can change from day to day, or from morning to evening. But more importantly, it helps us realize that it doesn't really matter whether we can reach our toes or not. The posture works anyway.
Acceptance depends on awareness. It is impossible to accept something that we haven't experienced. And, as any experienced yogi knows, developing the ability to experience is one of the benefits of yoga. For example, when we practice breath awareness – just being aware of the breath, without changing it – we are required to accept the current way our body is breathing, whether is shallow, or fast, or irregular. We soon discover that by simply experiencing our breath, letting it be however it is, it gradually becomes slower, fuller, more rhythmic.
One direct and powerful way to train self-acceptance is through tantric meditations such as Antar Mouna. In Antar Mouna we experience the sense perceptions or the spontaneous thought process, and we learn to keep our mental hands off whatever happens. If suddenly the shrill scream of a baby breaks the peace, that doesn't disturb the meditation, it simply becomes part of it. If the baby's scream does disturb or causes some other mental reaction, then that mental reaction too is accepted as part of the meditation. We experience and accept whatever we become aware of during the practice (inside or out), letting it come and go without resisting or clinging to it. If we abruptly feel anger, or self-loathing, or any destructive emotion, then we become fully conscious of it, and allow it, again without pushing it away or holding on to it. We also don't analyze it or try to explain or justify it (that would also be clinging); we simply witness it come and go.
Whatever we experience in such a way looses its hold on us – by feeling it fully, we exhaust it. It is only those things that we don't allow ourselves to feel that keep on influencing us.
But here we're talking about something that one should experience in order to truly understand it. Yoga and tantra are not theoretical or philosophical endeavors, but rather a living tradition that offers us methods for daily life. So, do some yoga and discover how it can help you to stop fussing and start living.
English Yoga Berlin offers yoga in English out of our Kreuzberg studio. We teach hatha yoga, vinyasa yoga, yoga nidra, restorative yoga and classical yoga, and our classes include yoga asanas (yoga poses), pranayama (breathing) and meditation. Our emphasis is on community yoga and we strive to make our yoga classes as high quality, accessible and inclusive as possible, so that all members of our community can share the ways in which yoga benefits modern life. You can learn more about us here.