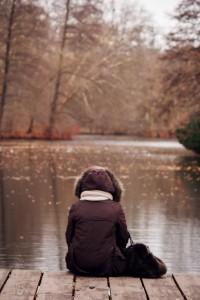 One way to describe meditation is that it is to experience what is happening, like we're watching a film, rather than like we're the protagonists. To witness with detachment. And then, behind the stream of impressions, you discover the one that is witnessing. It's like coming home.
There's very many meditation techniques, from all parts of the world and times of history. One of the most popular is to just sit quietly following the free-flow of breath. Although some meditations use movement, many of the best meditation practices for beginners rely on sitting completely still.
Today, with phone apps like Headspace, endless amount of guided meditations in YouTube, audio files, books, etc., it is not too difficult go get into meditation. These learning and practicing aids are good and useful, but there's no substitute for the direct guidance of a teacher, and the inspiring energy of a group of meditators sitting around you.
Once you choose a method, and maybe a class or a group of friends to meet regularly with, you may want to set a few minutes of each day to "come to yourself". Having a daily (or semi-daily) meditation practice, as short as five minutes, will simply change your life. You'll be wondering how you lived so long without it.
Here's some things to consider if you want to try it out at home. Think of it as an adventure, an exploration of the inner landscape. Each day, you sit for a few minutes to go into another dimension for a little tour.
Find a suitable space, away from disturbance or too much activity. Make yourself a little corner for you and your meditation.
Find a suitable time. The best time can only be determined by you. Maybe link your meditation practice with another activity that you must perform each day (do it either before or after that activity).

Set a timer, so you don't have to think about it, but also so that you meditate just the amount of time you decide.

Do it on a fairly empty stomach.

Do it without caffeine or sugar highs.

Consider your pose. If you sit on a chair, don't lean against the backrest and have your feet flat on the floor. However you sit, have a straight back and, most importantly, be comfortable. When your body distracts you often from the meditation, then you know is time to review your pose.

Remain still. The stillness of the mind is easier achieved and maintained when we don't move the body. The simple act of being still (not acting) activates the parasympathetic nervous system.

Set an intention to be there. Just a decision that you will be engaged in the meditation; for example, that you will be present (if you tend to daydream) or alert (if you tend to doze-off). Make it positive.

Come to the meditation without expectations. But if you do have expectations, then be aware of them and how they influence you.

Keep a journal. It is a great tool to chart your journey and keep your meditation in perspective. Don't use it to analyze, evaluate or judge your meditation, simply note your experiences and insights.

If you ever combine your meditation with other yoga practices, do them in this order: yoga poses, breathing exercises, relaxation, meditation.

Breathing exercises, specially Nadi Shodana, are an excellent complement to meditation and will give you a deeper experience if you practice them before.

When you end the meditation, move slowly and mindfully.  But don't try to hold on to the meditative state.  Just be natural and engage life fully. 
At English Yoga Berlin we host Tantric meditation courses.  Stay tuned for the next one, or send us an email to find-out more.  All of our Hatha Yoga, Vinyasa Flow and Tantra Yoga classes include the meditative deep relaxation Yoga Nidra, or a similar guided relaxation.  See our schedule for details.