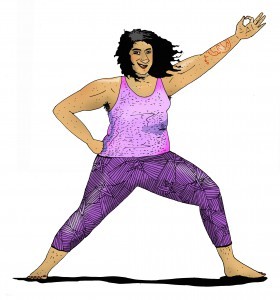 The Sunday queer yoga class at English Yoga Berlin has been running online steadily since the very beginning of the pandemic. It feels about time to try out going back to our lovely Kreuzberg yoga studio. But in order to be accessible to those who cannot attend in person, the class will also be streamed online. So, as of September, the class will go back to its original timeslot of 4pm as a hybrid yoga experience. The Zoom code for those who have it will remain the same.
Since we are still in the middle of the pandemic, the classes will be limited to 6 in-person participants in order to comply with the health regulations of Berlin. Those who register for the monthly BEFORE the beginning of the month will be reserved a spot. The remaining spots will be available by booking in advance through email.
Here are the updated regulations that we need to follow. I would like to take extra precaution for those at-risk and not contribute to the spread. So please take a moment to read the following guidelines so that we are all ready for the return of the Queer Yoga class at the studio.
** Update May 2022 **
The Berlin Corona Ampel has now dropped back down to yellow, so classes are returning to the Studio for the Hybrid experience. Class sizes will return to our pre-pandemic limit of 10 persons per class. Spots are prioritized for monthly students, and then open up for drop-ins as per first come, first serve basis. The measures have been lifted, but I will still request that everyone wears an FFP2 mask when not on their own mats, and to please arrive at the studio with a negative test (self-test at home is fine, please just take a picture of it). I will try to keep a few tests on hand, for those who forget, and will ask for the cost of the test in return.
Register for class:
Due to the limited amount of participants, you must register for class.
Since space at the studio is limited, and we'd like to keep a safer space for queer-identifed people, if you are not part of the queer community, please make space for queer folks by attending online or consider joining one of Pinelopi's classes instead.
For monthly students: Before the beginning of the month, send me an email letting me know if you will regularly attend in person or online. If you are attending in person regularly and cannot attend one class, please let me know in advance. Thanks!
For drop ins: To register for a class, use the online reservation system and then send your payment to me through paypal or bank account. A refund is only possible if you cancel 24 hours in advance.
For 5er cards: To register for a class, use the online reservation system and sign your own 5er card. A refund is only possible if you cancel 24 hours in advance.
If you have made a payment or have reserved using your 5er card, and don't feel well or have tested positive, please DO NOT come to class in person. Please de-register yourself from the class using the reservation system. If you can still attend online, you are of course welcome to. But if you cannot, please write to me to arrange for attending the class another time.
If you have paid for the class before registering and the class has then become full, there is no reimbursement or rescheduling possible for those who did not read the guidelines through.
For those attending online: There is no need to register. Simply send your payment and join with the Zoom link!
Vaccination AND Negative test (2G+):
The Berlin regulations require that you show a proof of vaccination AND a same-day negative test in order to attend a class. You can use the various test centers in Berlin for free.
In the case that I have a positive test, but feel well enough, the class will be held online.
The use of FFP2 masks:
It is required to wear FFP2 masks at the studio in all spaces except when you are properly situated at your own mat. You need to continue to wear the mask when you enter and exit the studio, when you walk around the space, and when you get up to go to the toilet.
When everyone is situated at their mats, you can take your mask off and practice yoga without it.
If you need to go to the toilet during the class, you need to put your mask back on as you pass the other students.
Wash your hands as you enter the space:
As you enter the studio, please use the bathroom on the left to wash your hands thoroughly before showing me your negative test for verification.
Bring your yoga mats:
Please bring your own yoga mat to class. If, for some reason you forget, you will be allowed to use ours but you need to disinfect it before use and after use. The Health Ministry highly discourages the common use of yoga mats.
Hands-on contact/guidance:
Hands-on contact is only permitted when both parties are wearing a mask. If you would like hands-on guidance, please indicate so by putting on your mask, and I will put mine on and disinfect my hands before coming over.
Airing the space:
When possible yoga class will happen with the windows open. When the weather gets chillier, I will air the room out every 20 minutes for 3-5 minutes. In order to reduce contamination, please do not touch the window handles yourself. Every time you feel the need for more air, please let me know and I will open the windows for you.
Keeping a list of contacts:
We are required to keep a list of contacts for 4 weeks after each class. The list must contain every person's full name, address, and phone number. When you register, you can either include that info in the reservation system (which is only privately access by English Yoga Berlin), or send me your full contact info (name, address, phone number), so that I can maintain the list. I will also provide a QR code that you can scan if you wish.
I am so excited to see you live again!
---
Juli offers Svastha Yogatherapy Vinyasa Flow yoga inspired classes at English Yoga Berlin. This queer yoga class is also open to friends and allies. Our yoga Kreuzberg Berlin classes are open for and welcome to beginners, as well as people struggling with chronic pain. Juli also offers private yoga classes one on one.