There are many, many different types of yoga and each teacher has their own style. All of us at English Yoga Berlin are guided by the basic principles of the Yoga Sutra, especially that of Ahimsa (non-violence): we respect our limits while gently opening our bodies and minds to new experiences and ways of seeing. We also include techniques from Yoga Nidra in all of our classes.
You can see our class schedule here.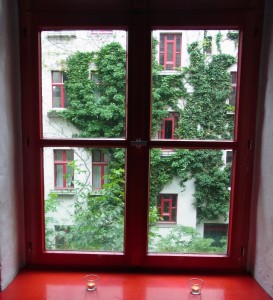 Types of Yoga offered:
Vinyasa Flow: This Anusara-influenced Vinyasa Yoga class connects the breath with flowing, dynamic movement through sequences of traditional and contemporary Hatha yoga postures. This class begins with 10 minutes of breath awareness exercises, followed by sun salutations, core strengthening, balance and stretching exercises, and ends with 20 minutes of guided relaxation. A focus is placed on promoting awareness of one's own ability at the present moment to move comfortably and freely while carrying one's own weight. The class is slower than most Vinyasa Flow classes, with a focus on exercises from Svastha Yogatherapy (yoga for health). It is open to both beginners and experienced students, as well as those with injuries, chronic pain or limited mobility, as options and modifications for poses are offered by the teacher. It is a queer and trans* positive space where gender binaries are viewed post-structurally and heteronormativity is challenged. Allies welcome.
Hatha Yoga: This is a soft, balancing yoga.  It mainly consists of getting into a position and holding it while breathing deeply.  The students choose how hard they want to make it for themselves by choosing how many breaths they are able to do on that particular day. This class is taught in English and includes up to 70 minutes of positions and 20 minutes of relaxation and visualization, in which we introduce aspects of Yoga Nidra (conscious deep sleep). You can read more here.  
Restorative Yoga: This a restful, gentle yoga practice that nourishes the parasympathetic nervous system, our body's responses when rest or regeneration is required to counter stress, anxiety, insomnia, illness or injury. Poses are held for 5-20 minutes, supported by props, rolled-up blankets, blocks and chairs. In this specific class, a gentle flow warms up the body, before settling into longer poses, accompanied by some thai yoga massage to help deepen or relax the poses. At this time, there is no regular weekly course for restorative yoga. If you are interested in booking a private session, please contact Juli to arrange a date and time. Private sessions will be offered to Berlin-based Queer* and Trans* folks, and women with histories of trauma, including inter-generational, at a sliding scale rate of 25-60 euros. When booking a time with Juli, please be sure that this appointment works for you, as you will be charged a fee of half the agreed-upon rate if you cancel within 24 hours of the class time..
Pregnancy Yoga:  This is a soft balancing class that promotes mental and physical well being. All yoga poses (asanas) are adapted for the pregnant body. Pregnancy is not a moment to advance in the practice of yoga , but rather a moment to use the practice for feeling in tune with the body, listening to its queues, and a way to learn to respect the body's limits. In this English pre-natal yoga class, the students will learn how to stretch through yoguic asanas, breathe deeply during movement, as well as the use of good visualization and relaxation techniques. The class consists of 55 minutes of asanas and 20 minutes of relaxation.
——————————————
Private classes are also available on request for any style of yoga we offer.
You can also bring yoga to your workplace with one of our office yoga packages.
All classes are taught in English.