This interview was taken by Clelia, an Erasmus entrepreneur working as an intern in learning how to set up a small yoga business such as English Yoga Berlin.  During her stay here, she decided to interview the English Yoga Berlin teachers to find out more about their past and their pathway that lead them to yoga.
1. When was the moment that yoga became something else for you than just another experience?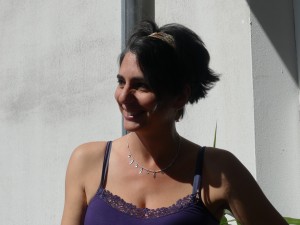 The first class I took. I was 19 years old, and mostly aware of my body through pain created by the imbalances brought about from a club foot at birth. Up to then, I would look at all physical activities more as a challenge and a "must" rather than a source of pleasure and opening. When my friend, Eve, took me to my first yoga class in Chichester, England, I experienced a form of opening of over-contracted muscles and untying knots and habits of my body that was incredible. I experienced the first "physical exercise" that brought me pleasure and made me feel capable – whilst at the same time built muscles and made me strong. When the teacher arrived to the guided relaxation, I had an incredible experience of "being" which was in stark contrast to my overwhelming "doing" mode. At that moment I knew that this was not just another experience, like a zumba class would have been for me, but a path for me to take.
2. Can you pinpoint a time when you could say, this is life before yoga, and this is life after yoga?
A year later, I moved to other parts of the world and left my wonderful Chichester teacher. Unfortunately, the chronic pain in my leg got worse and was spreading. I ended up needing to take six months off to solely focus on physical therapy and finding a way to deal with the pain in my body. I had to do at least two hours of physical therapy exercises every day for my body to function. That's a LOT of time to dedicate to your body daily!  And they were the same five exercises repeated over and over, again and again and again.  That is when I started remembering my yoga and slowly turning the exercises into yoga.  Soon,  I had a two hour daily yoga practice, with a relaxation to calm the nervous system down from the chronic pain… and to access that "being" state again and again.
That would be the moment where there was a life before and after yoga.  The life before was predominantly painful. When I started doing my daily yoga practice, I felt like I had a tool box. I would wake up in pain, and than I would take the toolbox out to loosen some screws and tighten some others and oil the rest… and then I could function for the rest of the day.
My teacher used to say that "people approach yoga for a specific reason, but they stay for other reasons". This is definitely what happened to me. I approached yoga out of being in a lot of pain, and I stayed because it opened the doors to another way of relating to life. To the "being" state that brought lightness, depth and connection with every thing that mattered to me.
3. Why are you teaching yoga, rather than just practising it for yourself?
I love teaching. Before I was a yoga teacher I would teach kids extra curricular theatre, languages, and all kinds of stuff.  I taught young women self defence workshops in Spain. I learned lots of incredible and alternative teaching techniques at a popular education seminar we organised in ESCANDA. Teaching is something that I have always been attracted to, that always felt natural to me, and that was a way of learning.  When I was a kid, I would learn or do my home work  by putting my dolls in a line and pretending to be their teacher! Teaching, for me, is the best way of learning.
And so it is with the yoga classes too. It is through teaching that I learn. It is through saying things to students while I teach, that I notice the gaps in my knowledge and am able to dig deeper…. or that I comprehend better the understanding of the yoga teachings.
Of course, one of the biggest sources of happiness for me, is when a student who suffers from chronic pain is able to untangle the different parts that contribute to that pain through yoga and gets to breathe more freely. Being able to teach pathways that bring people to such self exploration, body awareness and understanding of their own knots is one of the most precious parts of my work, and a reason in and of itself to teach.
4. How did you find your way through the ancient tradition of Yoga?  Why Hatha Yoga and not another yoga?
I have been drawn to hatha yoga because it is a slower kind of yoga, giving me enough time to check in with my body as I put myself into an asana. For me, the time factor, is very important. I use this kind of yoga to increase body awareness, have a communication with my body about what is happening right now and how it is affecting the rest of me, and to induce an embodied presence.  Lots of students say that the way I teach is meditative. I would have never described it that way, as for me, meditation is something very different. But I am starting to understand where they are coming from when describing the classes in this way.  They are referring to being guided in keeping the mind present to what is happening right here in the body and the energetic field at this very moment. I would describe that more as mindfulness.
Pinelopi specializes in Hatha Yoga. Her yoga Kreuzberg Berlin classes are open for and welcoming to beginners. She offers Berlin business yoga, pregnancy yoga, and private yoga classes for people struggling with chronic pain.