When:
2023-11-30T18:00:00+01:00
2023-11-30T19:30:00+01:00
Hatha Yoga in English -Hybrid Weekly Class for all levels.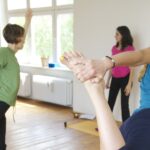 This Hatha Yoga in English class is a gentle yoga for all levels. Pinelopi, the teacher, guides the students to stay present with their bodies throughout the whole class.  Each class ends with a deep relaxation.
This is a hybrid live/online class. The yoga teacher gets streamed live to students participating online. The computer is positioned in a way that only the teacher gets streamed and participants are not seen online. Pinelopi's main focus is on the live students in the room, with queues and hands-on corrections to those who want them.
This Hatha yoga class is offered in a 6-week modules or as a drop-in class, at the studio or online.

Check prices here.