English Yoga Berlin's Hatha Yoga teacher, Pinelopi, will be offering Berlin a new pregnancy yoga class in English.
Where: Gorlitzerstr. 39 at the  Kreuzberg Yoga Studio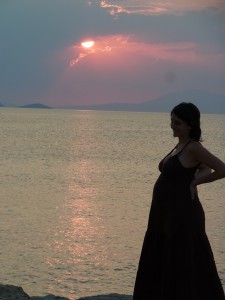 When:  Mondays at 11.45-13.00 (first class on the 7th of September)
Who:  Pregnant people and whomever is interested in their process.
What: This is a soft balancing class that promotes mental and physical well being. All yoga poses (asanas) are adapted for the pregnant body. Pregnancy is not a moment to advance in the practice of yoga , but rather a moment to use the practice for feeling in tune with the body, listening to its queues, and a way to learn to respect the body's limits. In this English prenatal yoga class, the students will learn how to stretch through yoguic asanas, breathe deeply during movement, as well as the use of good visualization and relaxation techniques. The class consists of 55 minutes of asanas and 20 minutes of relaxation.