When:
2023-06-01T20:00:00+02:00
2023-06-01T21:15:00+02:00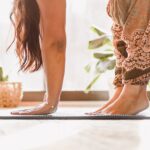 We carry our habits everywhere. If we tend to stress our neck before we lift our arm, we will do that regardless whether we are reaching for a box or bringing our arms up into the Warrior pose. The Alexander Technique looks into these deep habits and gives you small impulses that make a big difference in how to access a better coordination with your body as a whole. In this Yoga and the Alexander Technique course we will look at ways we enter yoga poses through the lens of the Alexander Technique, with the intention of uncovering deep habits.
How does the "Yoga and Alexander Technique Berlin" Course work?
Each class will consist of:
this course consists of six classes
beginning with ten minutes of the semi-supine with hands-on impulses
yoga poses
looking at how to do the poses with an Alexander Technique lens
10 minute guided relaxation
space for questions and comments (optional)
this is a studio only class, it will not be streamed online
For Whom?
This course is for anybody who is interested in yoga or who is interested in the Alexander Technique. It is designed in a way that you can participate, regardless of your level of experience.
What to bring?
Mats, blankets and chairs are provided at the studio. For hygiene, it is best if you bring your own equipment, but you are welcome to use ours too!
When?
Every Thursday 8pm starting on April 30h to June 1st, 2023. No class on May 18th as it is a public holiday.
Duration: 1hour and 30 minutes.
Price: 65 euro if you sign up for the 6 classes, 15 euro if you want a drop in class. Press here to book a class.
Where?
English Yoga Berlin Görlitzerstr. 39 – Berlin
How to Sign up?