What is Bhramari?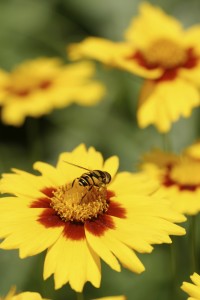 Do you every feel like you are suffering from brain clutter? It doesn't really matter what you do for a living. It makes no difference how you have set up your social structure. The mind is a masterful and intricate machine, assigned the all-important purpose of sorting through your influences and possibilities and helping you to make decisions. And frankly, sometimes, your mind can seem to have a "mind of its own".
Part of what we do in our Berlin Yoga classes is attempt to give your mind a break. The premise being that with a little space, a little clearing, your mind will be able to work more harmoniously with your body and your soul. It's hard to calm this busy machine down. But the practice of yoga is a wonderful way to regularly tune in to yourself in an effort to make peace with the world around you.
This week's Terminology Tuesday is dedicated to a yoga breathing technique that helps to calm the minds sometimes obsessive thoughts. By explaining these yoga terms we hope to demystify this all important practice so that it may become a part of your everyday life.
Bhramari – is yet another form of Pranayama. The word Bhramari literally means "bee". This breathing technique requires a humming sound while shutting your ears with your fingers. The sound effect created is very similar to the sound of a bee, making the name quite an accurate description. The after effect is a feeling of calm and wellbeing.