"Laughter is the sun that drives winter from the human face."
– Victor Hugo
Welcome to a brand-new year!  We wish you a healthy and happy 2014, full of laughter and learning.
Our collective is very excited about the beginning of 2014: we have opened new morning classes, will offer a deep-cleansing workshop and are celebrating the arrival of a special and very small new member of the EYB community!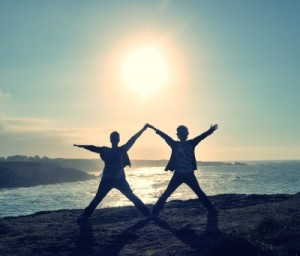 New Morning Classes
To help you keep your New Year's Resolutions, we will be offering Yoga on Friday mornings. From 10am until 11h45, Pedro will offer Classical Yoga. Each class includes yoga asana (poses), breathing exercises (pranayama), deep relaxation and Yoga Nidra. Yoga on Friday mornings is an ideal way to relax and prepare for a great weekend! Check out this and other classes on our schedule.
Shatkarma Workshop: Yogic Detox
Over the weekend of January 18/19, our collective will be offering a yogic detox, cleansing and self-care workshop! In this workshop, you'll learn a range of detoxifying practices that you can use to bring balance to your body and clear toxins and stress. You can see more detailed information here.
Community Class Re-Schedules
Our collective's popular Community Class has moved to Fridays at 12.15pm.  This is a donation-based class  that we offer for people in low-income situations or those who cannot otherwise afford our regular classes.  It is guided by a different teacher each week and is part of our collective's commitment to accessibility. For more information check out What is a Community Class?
Zoe has Landed!
Our Pinelopi has given birth to a healthy and gorgeous baby girl!  Zoe arrived last October to the delight of her proud parents and the cheers of all of us at English Yoga Berlin.  Pinelopi's maternity leave will continue for a little while longer, as mother and child get to know each other and enjoy this very special time together.
We are looking forward to a full year of offering Hatha yoga, Vinyasa Yoga, Classical Yoga and Restorative yoga classes in Kreuzberg. We would like to, once more, extend our appreciation and gratitude to the wonderful community of yogis who practice with us at English Yoga Berlin! Your presence and contributions transform our Kreuzberg studio into a place of belonging and community. Thank you for your practice and your dedication!