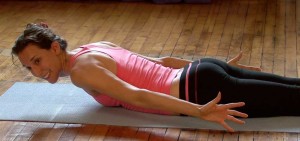 We're excited to announce that, on August 22nd, our last community yoga class before the summer break will be taught by visiting functional anatomy specialist and yoga teacher Sara Hauber!
If you have frequent back pain and have been told that yoga might help you, or if you've noticed that yoga classes actually make your back hurt, then you won't want to miss our August 22nd Community Class with Sara Hauber, M.A. Sara is a functional movement and anatomy specialist, in addition to being a certified yoga teacher, and she teaches a specialized yoga practice designed to target the common sources of back pain–activating the abdominals, strengthening the back, stretching the hips and relieving the stress associated with an aching back or poor posture. Breathwork (pranayama), yoga asana and meditation will all be included, and the class is suitable for all levels.
The practice will be followed by an optional 30-minute back care lesson, open to all participants who want to join. We will learn the basics of preventative back care and some specific tips on preventing common back injuries in the practice of yoga poses, to help you enjoy yoga in daily life, without pain.
When: Friday, August 22nd, 12h15 – 13h45 (optional extension to 14h15)
Where: English Yoga Berlin yoga studio in Kreuzberg, directions here
Cost: sliding scale, 5euro – 10euro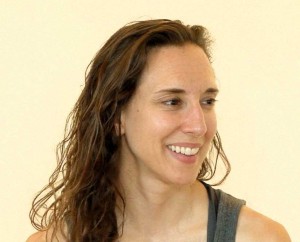 Sara Hauber, M.A., is a certified yoga teacher and functional-movement specialist whose mission is to help you overcome back pain and feel great through your yoga practice. Since undergoing complete spinal fusion for scoliosis, Sara has been empowering others to transform their bodies, eliminate pain and change their health for the better. She has taught throughout the U.S. and in Southern Italy, and she's happy to be offering community yoga in Berlin! Check out her website for more information.
English Yoga Berlin is a self-organized collective of yoga teachers specializing in community yoga and yoga in English in Berlin. We offer gentle yoga, hatha yoga, vinyasa yoga, classical yoga, restorative yoga and yoga nidra. Our focus is on offering accessible, inclusive, affordable and high-quality yoga classes in Berlin. You can see our yoga Berlin Kreuzberg studio schedule here, and read more about us here.