Recently, we added a new Vinyasa Flow Yoga class in Kreuzberg. Not your average yoga, this fusion style offers so many substantial benefits to those who practice it. But some people still seem to have questions about what makes this type of yoga so dynamic. We thought we might try to explain.
Vinyasa Flow yoga, aka "power yoga" takes its inspiration and principles from Ashtanga, but it is a more creative style. Each class is designed individually, using different asanas to focus on different parts of the body. Like Ashtangis, we pay very close attention to the transitions between each asana, or posture, and use breathing to coordinate the smoothest transitions. For example, while inhaling we focus on lengthening the spine and then while exhaling as we fold forwards. We also take from Ashtanga the use of the Sun Salutation as a "link" between posture sequences.
When Cardio Meets Yoga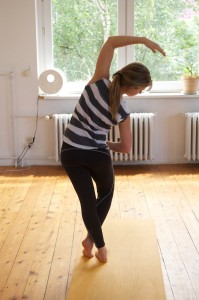 Vinyasa Flow classes, like Ashtanga, also tend to be a cardiovascular challenge because they are relatively fast-paced. Unlike Ashtanga, however, Vinyasa Flow postures are held for different lengths of time and movement is often incorporated into the posture (for example, moving the upper body rhythmically while keeping the lower body stable). Exercises and sequences from other traditions are also used such as tai chi, pilates and bellydance. Because these all use breath synchronized movement, they can be incorporated into Vinyasa Flow classes with ease to enhance the practice.
The popularity of Vinyasa Flow classes is probably the result of its diversity. Students find the classes fun, challenging and relaxing. For this reason, we decided to add another Vinyasa Yoga Class at our new studio in Kreuzberg. We would love to see you there!