Hatha Yoga: Hidden Language, taught by Melina Cinq Mars.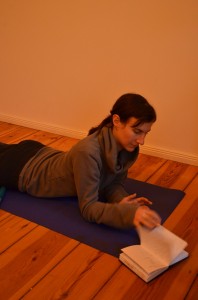 In Hidden Language Yoga, we practice the physical posture of asana, as well as looking at the symbolic meaning behind the asana´s concept. It is a reflective yoga class that requires a journal and pen to take note of what the body has to say, what the mind thinks and what emotions emerge. This gives participants a chance to create space in both the body and mind, space to learn to know one´s self better. The Hidden Language yoga class in Kreuzberg can also involve some sharing of insight at end of the class for the benefit of all. This English Yoga class includes breathing exercises, asanas with reflection and relaxation.
What to bring? Comfortable clothes, a journal, a pen
Special offer?   Yes! The first try-out class only costs 5 euro during the month of December.
 See you on the mat!