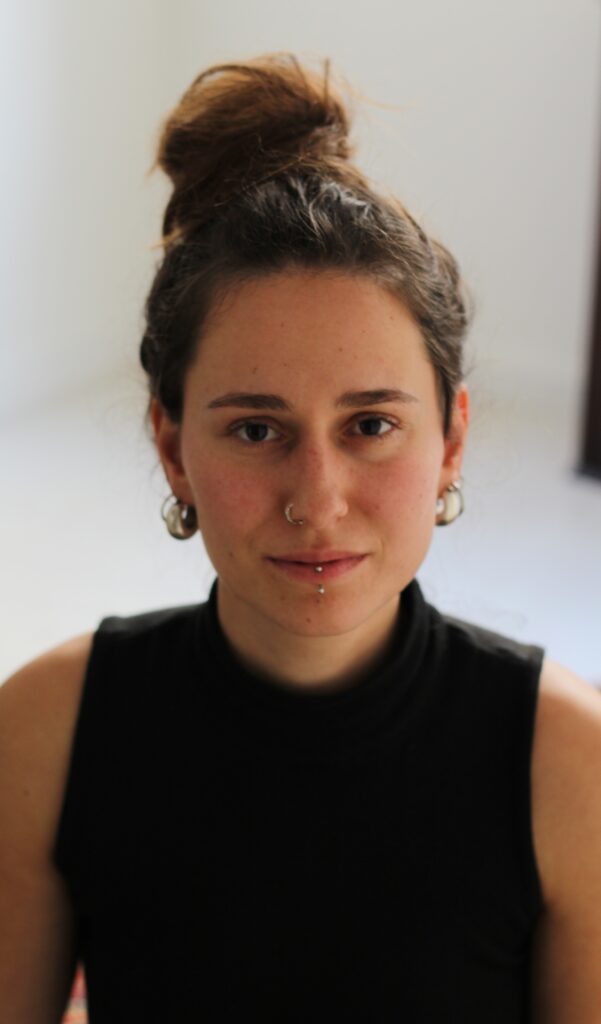 Some years ago I met Christina Karafyllidi: a dynamic, eager, fun, fresh yoga teacher. She impressed me with her honesty, thoroughness and wish to learn. She soon became my official substitute. But who is Christina and what is her background? Here is a small interview to get to know her better.
So Christina, let us get straight to it. What can you tell us about your yoga background?
Making these sorts of introductions always feels a little forced and rather terrifying, I'm sure you know what I mean! On the other hand, it's important to me that you know who I am. I was introduced to yoga as a college student in Greece. I started my yoga Journey in 2015 by practicing Vinyasa and Acro-Yoga. Over the years, I also enjoyed Asthanga and Nidra Yoga and in 2020 I completed my Yoga Teacher Training of 200hr (RYA) at Aadi Yoga School in Risikesh, India.
It was clear to me that I wanted to learn more through becoming an apprentice, and so I approached you, Pinelopi, and got to know Hatha Yoga. I, also started teaching private classes and group classes in parks.
In September 2021, I started teaching at English Yoga Berlin as a "cover" teacher for you. You are probably the most inspiring, supporting and authentic person for me. I am so grateful to your trust in giving me this opportunity to take care of your students when you are not able to teach.
Have you also studied something else other than yoga?
Yes I studied how to be a pre-school teacher in Greece. At the moment, I am doing a masters in Art Therapy and in the future I intend to link art therapy and yoga. Both of these require kinaesthetics, focus and paying attention to the present moment.
So what are your hobbies… besides yoga?
I consider myself a real book worm. I am also a music fanatic of many styles and a huge fan of Nature & Bouldering. ………. and a bedroom/kitchen/train station kind of "dancer."
What are the things you care about the most when teaching yoga?
What I care about the most is Ahimsa: nonviolence. The purpose of Ahimsa is to meet the student and yourself exactly where one is in this very moment. Regardless of one´s individual challenges and aspirations, Ahimsa empowers you to move forward, one step at a time, one day at a time, one breath at a time, towards a greater experience of health, happiness and wholeness.
I, also, care greatly about creating community well-being and inclusivity in my classes. It is important for me to create a safe, welcoming space for all bodies, ages, abilities, genders, and shapes. I encourage people to listen to their own bodies and to trust their own process. Everyone has a different kind of connection to their body, so I encourage students to stay away from comparisons and ground themselves in their present moment.
What would you say is your biggest wish through yoga?
My wish is for us to rediscover the wisdom and power of our bodies, develop a tender relationship to our thoughts and emotions, and live in ways that nourish us, each other, and the planet.
What would you say is a yogic illusion?
The non-slip yoga mat! It is a mythical creature and it is proving to be a futile quest!
What are your personal struggles in yoga asanas?
I still feel uncomfortable with some arm balances and a bit scared of some inversions.
What do you not like in the modern way that yoga is presented?
I do not like when people consider yoga just a work out and focus only on its physical aspect. When people do that, they go against the true meaning of yoga which is about uniting the mind, body, and nature.
Thank you Christina Karafyllidi! We are so happy to have you on board!
Pinelopi has been a Hatha Yoga teacher since 2008. Her yoga Kreuzberg Berlin classes are open for and welcoming to beginners. She offers Berlin business yoga,  private yoga classes for people struggling with chronic pain, yoga courses, retreats and workshops.  She completed Leslie  Kaminoff's Yoga Anatomy course and is training to become an Alexander Technique teacher.